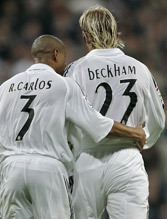 David Beckham was sent off for the second time this month and the third time in his Real Madrid career during the 2-1 home defeat to Valencia.
The 30-year-old was booked for dissent and then sent off for sarcastically applauding the referee.
Beckham's dismissal was identical to Wayne Rooney's sending off for Manchester United against Villarreal.
Former Everton midfielder Thomas Gravesen was also dismissed as Real lost their lead in La Liga to Getafe.
Beckham was also sent off against Valencia in January 2004, and again in May that year against Real Murcia.
On the first occasion he received two yellow cards for dissent and a foul; the second time was a straight red for swearing at a linesman.
Beckham was also sent off for two yellow cards in England's World Cup qualifying win over Austria a fortnight ago.
Afterwards coach Wanderlei Luxemburgo seemed unimpressed by Beckham's dismissal.
"I wasn't next to Beckham on the pitch so I can't say what he did and Gravesen's was a foul from behind, said the Brazilian.
"I don't like to complain about referees. We have lost more than three points, we have lost two players."
Gravesen was unrepentant about his dismisssal.
"It was a counter-attack and I had to take him down. I don't regret it and I would do it again if I had to," said the Dane.
"I could not take the chance and let him continue his run. I didn't think it would be a red card but I still have to adapt to the Spanish style of refereeing."