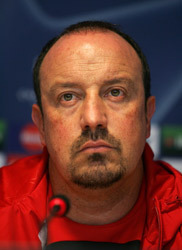 Save 30% by subscribing to World Soccer
Liverpool boss Rafa Benitez has admitted he has taken a risk in selling Robbie Keane back to Tottenham.
Keane completed his return to White Hart Lane on transfer deadline day after just six months at Liverpool.
The Republic of Ireland international endured a difficult time at Anfield following his summer arrival from Spurs and he failed to hold down a regular place.
"Sometimes good players cannot settle down in the team and when this happens you have to consider the situation and try to react quickly," said Benitez.
"If it is not good for the team then it is better for everyone to make a decision and because of the situation in the transfer market and for the opportunity for the player we had to do it now.
"I have to analyse things and try to look at the bigger picture and this means thinking of the club and the team and what is best for them."
Benitez belives he has enough strength in depth to cope without Keane as the Reds look to keep their title bid on track.
"We still have Babel, Ngog and Kuyt as well as Torres," added Benitez. "It is a risk but the situation was not good and we needed to do something.
"Now I would like to wish Robbie the best because although things did not work out he has been working hard for us.
"He was trying to do his best and the key was that Spurs showed a lot of interest and they were pushing really hard for him.
"The player needed to play and he was not doing that as much as he would have liked with us.
"But I cannot criticise him in any way because, as I have said, he tried to do his best for us."