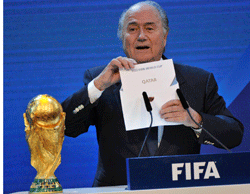 Milan are now a best price Evens to win Serie A after their 1-0 win over Cagliari put them 5 points clear
FIFA president Sepp Blatter believes the 2022 World Cup in Qatar will be held in January because of the country's hot summers.
The tournament is traditionally held in June and July but temperatures in Qatar at that time of year can top 40C.
Speaking in the Qatari capital Doha, Blatter said: "I expect it [the 2022 World Cup] will be held in winter.
"It is 11 years away but we must decide the most adequate period, which means January or the end of the year.
"Although we have the basic conditions of their bid for a June and July World Cup, the Fifa executive committee is entitled to change anything that was in the bid.
"When you play football you have to protect the main people – the players."
FIFA general secretary Jerome Valcke supports the idea of the 2022 World Cup being rescheduled.
Speaking in December, he said: "Why not? It means you open the World Cup to countries where they can never play it in June and July because it's never the right period of time.
"If you can do so, it would be a solution to open the organisation of the World Cup to a number of countries in this period which is winter in Europe but not winter in the rest of the world."
He added: "You can't just make a decision to move the tournament and that is it.
"It means you have to change completely when the leagues will play, mainly I would say in Europe. It's less difficult in the rest of the world."
Qatar beat Australia, Japan, South Korea and the United States to host the tournament in the vote by FIFA's executive committee on 2 December in Zurich.
UEFA president Michel Platini recently proposed moving the 2022 World Cup to December or January.
Meanwhile, Blatter also revealed in December that several nations in the Middle East were interested in hosting games during the 2022 World Cup and that he had met with officials in Oman, Bahrain and Kuwait during a tour of the Middle East.
"This demand has to come from the Qatar football organisation by saying we would like to have such and such things and this has to go back to FIFA and the FIFA executive committee has to say open it or don't open it," he said.
"I can say all these countries are very happy. First of all, the World Cup is going to the Middle East and they are interested – I would say a little bit more than interested – to be part of this competition.
"It is a wish. It is easy to say but it is not so easy to realise. For the time being, it's too early."
Milan are now a best price Evens to win Serie A after their 1-0 win over Cagliari put them 5 points clear
Take advantage of the January sales by saving up to 36% on a subscription to World Soccer