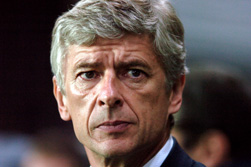 Real Madrid president Ramon Calderon claims the club held talks with Arsene Wenger before opting to appoint Bernd Schuster as their new manager.
Getafe boss Schuster is expected to take up the vacancy created by the sacking of Fabio Capello at some point in the next seven days.
However, Calderon has revealed that Real sporting director Predrag Mijatovic held talks with Arsenal boss Wenger – and the other names on the club's shortlist – before opting for Schuster.
"Once we decided that Capello would not continue, Mijatovic underwent talks with Schuster, [Ronald] Koeman, [Michael] Laudrup and Wenger," Calderon told the club's official website.
"Schuster has told us that he has solved his situation with Getafe. I am not sure if on Monday he will be at Real Madrid.
"He has always been among the three or four coaches with whom we have spoken. It appears logical that he will be the next coach.
"We would have to negotiate his contract but it shouldn't be a problem."
Real have also been in negotiations with Arsenal over the possible signing of Jose Antonio Reyes, who spent last season on loan at Real.
"I think that with a new coach and with a new system Reyes could become an important player for this club," concluded Calderon.