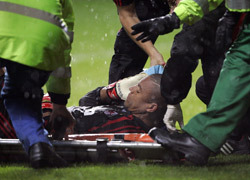 England should have few problems getting a result against Estonia this Saturday and moving one step closer to qualifying for Euro 2008 – 15:00 BBC1
Celtic, Milan and the Italian club's goalkeeper Dida are awaiting Uefa's verdict into the one-man pitch invasion during the Champions League encounter in Glasgow.
Dida collapsed theatrically after a fan appeared to strike him near the end of Milan's 2-1 defeat on 3 October.
The 34-year-old was stretchered off but has been criticised for overreacting to what looked like minimal contact.
Uefa's control and disciplinary body is hearing cases on Thursday concerning Dida's actions and Celtic's security in light of the pitch invasion.
The fan has since been identified and banned by Celtic for life.
Milan boss Carlo Ancelotti has already admitted Dida's actions were a "mistake", but says the keeper should not be punished.
"During the years, Dida has shown great sportsmanship and fairness – he was also hit by flares and he got up," said Ancelotti.
"The other night was a mistake. I don't know why he did it, but I think that the issue must be closed for all the demonstration of professionalism he gave through the years.
"I think that he made a mistake, but that's all. The doctor decided he should come off because he did not know the extent of the damage and preferred to avoid any eventual risks."

England should have few problems getting a result against Estonia this Saturday and moving one step closer to qualifying for Euro 2008 – 15:00 BBC1