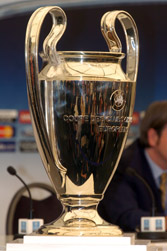 Liverpool v Milan
Kick-off 19:45 BST
Will Steven Gerrard and his Liverpool manage to beat AC Milan in this year's Champions League final? Click here for the latest odds!
While most attention has inevitably focused on the dramatic match between Milan and Liverpool two years ago in Istanbul, the Italian side have their own piece of history to look to for inspiration.
Athens has a special place in the hearts of all Rossoneri followers, for it was here that the club produced one of the all-time great performances in the history of European football. Inspired by Dejan Savicevic, a Milan team including the ageless Paolo Maldini, took their fifth European crown with a breathtaking 4-0 demolition of Barcelona.
Thirteen years on, Milan are chasing their seventh title, one they almost landed in Istanbul two years ago. Talk of the harrowing impact of Liverpool's dramatic victory in 2005 has almost overshadowed the build-up to this rematch, but Milan coach Carlo Ancelotti insists it will have no bearing on tonight's game, saying: "That game is history. This will be different."
Opposite number Rafael Benítez agreed with that assessment, stating: "The 2005 final was amazing, the best in the history of the competition. I don't think we'll see a game like that; if we do, I'll need a doctor. It's a difficult game for both teams and I don't think we'll see a lot of goals.
"We're here because we've been doing the right things. We can be confident and calm. We've done the job, now we must try to enjoy it. If you do the right things and win then perfect, but don't leave the pitch with regrets."
The clubs know each other's strengths, but neither coach will be tailoring his style to suit the opposition, even in Benítez's case when it comes to stopping Milan danger man Kaka.
"We know Kaká is a very good player, but our system is not to mark him individually," he said. "We mark zonally and try to control the play, the ball and the space."
Boudewijn Zenden is Benítez's main injury concern, though the Dutch international trained at the OACA Spyro Louis Stadium on Tuesday and should be fit.
Benitez said: "He looks like he will be OK, he has trained and I expect him to be fit."
Benitez is expected to play a five-man midfield with skipper Steven Gerrard likely to occupy a supporting role to lone striker Dirk Kuyt.
For Milan, Maldini is expected to overcome a knee problem to make his record-equalling eighth final appearance while in attack Ancelotti will choose between Filippo Inzaghi and Alberto Gilardino.
Ancelotti admitted he has already decided who will lead the line but was keeping his cards close to his chest.
"Inzaghi scores more goals, but Gilardino's support work is better," he said. "I've already decided on my team but I haven't told the players yet.
"Everyone deserves to play, not only the eleven who start the match. We will have to play our own game in the knowledge it will be difficult to play the ball around against a team that gives very little space.
"But I can say that the squad is in good shape. We have worked well, and we are ready for Wednesday."
When Milan lost here to AEK Athens in the group stage an eleventh final appearance seemed a long way off, but they proved any doubters wrong.
"What has emerged is great harmony with the team and with the club," Ancelotti said. "That's the main reason we reached the final. We've just faced problems and solved them. That gives us strength and motivation. We're very strong at the moment."
Probable teams:
Milan: Dida; Massimo Oddo, Alessandro Nesta, Paolo Maldini, Marek Jankulovski; Gennaro Gattuso, Andrea Pirlo, Massimo Ambrosini; Kaká, Clarence Seedorf; Filippo Inzaghi.
Liverpool:
Pepe Reina; Steve Finnan, Jamie Carragher, Daniel Agger, John Arne Riise; Steven Gerrard, Javier Mascherano, Xabi Alonso, Boudewijn Zenden Jermaine Pennant; Peter Crouch, Dirk Kuyt.
Will Steven Gerrard and his Liverpool manage to beat AC Milan in this year's Champions League final? Click here for the latest odds!