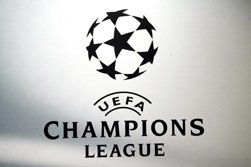 Artmedia's face Scottish champions Rangers with both sides looking for three points which would leave them in a strong position to progress from Group H.
The clubs shared a goalless draw at Ibrox last time out, a result which left both clubs on four points, two behind leaders Internazionale and one above 2004 winners Porto.
Czech defender Ales Hellebrand is not expected to play, although striker Branislav Obzera is available after injury.
Og his starting line-up, coach Vladimir Weiss said "no decisions on selection will be made until Tuesday morning" although "all the players who played in Glasgow are fit and ready".
Weiss was in upbeat mood when discussing tonight's game.
"We're going into this game with confidence high and will be playing to win," he said.
"The mood in the dressing room is good and we're hoping that is reflected in our performance. We're not favourites to win against Rangers but we are certainly in a stronger position than before with four points won."
His counterpart Alex McLeish is under pressure after Rangers slipped further off the Scottish Premier League pace following a 1-1 home draw against Inverness Caledonian Thistle.
McLeish underlined the importance of this European campaign.
"It could turn our season around," said the Scot. "I have complete and absolute trust in my players, no doubt at all. The players have already proven this season that they can raise their game in the UEFA Champions League. We put in a terrific home performance against Artmedia and were unlucky not to win."
José Pierre-Fanfan will miss the match with a hamstring injury although McLeish confirmed that first-choice centre-backs Sotirios Kyrgiakos and Julien Rodriguez have both recovered from injuries. Francis Jeffers has recovered from a hamstring problem too, but Thomas Buffel (knee), Federico Nieto (ankle) and Nacho Novo (foot) are all out.
Subscribe to World Soccer – The essential football magazine