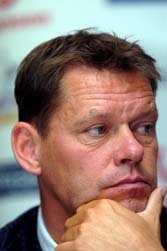 Chelsea remain confident that they can salvage a deal with Tottenham to sign Frank Arnesen without the matter being referred to the Premier League.
Spurs suspended their Danish sporting director amid claims that Chelsea made an illegal approach for his services.
"There's an ongoing dialogue between the clubs still," said Simon Greenberg, Chelsea's director of communications.
"The relationship has not irretrievably broken down, so there are discussions ongoing and we wait to see if they progress or they do not progress."
Arnesen has allegedly made it clear that he is ready to make the switch across London. According to reports Tottenham offered to double his current salary to £1.2m a year but Chelsea have offered him twice that amount.
Chelsea have denied breaching FA Premier League regulations after requesting permission from Tottenham to approach Arnesen.
But Spurs claim they have broken the rules because their letter regarding Arnesen was copied to the Dane.
"By definition, Frank was approached prior to the club having had any chance to refuse permission," said a statement on the club's website.
Spurs have yet to make any formal complaint to the Premier League and Chelsea may avoid an inquiry if they can reach a cash settlement with Tottenham.
The White Hart Lane club stunned Chelsea with their original request for compensation. They demanded the Premier League champions give them £6m-rated midfielder Scott Parker for free and allow them to sign Finnish striker Mikael Forsell on loan for a year.