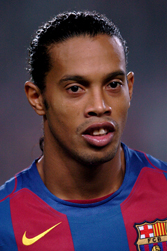 Brazilian playmaker Ronaldinho says Chelsea still have some way to go if they wish to be regarded as part of the European elite.
Chelsea's profile has risen sharply since being taken over by Roman Abramovich, but success in Europe has proved elusive.
Ronaldinho believes that Chelsea need to win the Champions League before they can be regarded as one of Europe's leading clubs.
"It is not just about the money, it is about what you achieve on the pitch," said Ronaldinho.
"Chelsea have been close to winning the Champions League twice but they have not won it yet, they may win it this year but there is a long way to go.
"They have added great signings to an already strong team so there is a strong possibility they will go further than the last four this time.
"However, this is a critical season for Chelsea as they must prove they really are one of the world's best teams and one that will stay in that position."
The London side beat Barca 5-4 on aggregate in a thrilling encounter last season, but Ronaldinho says his team are hoping for the chance to get their revenge this season.
"Barca's tie with Chelsea last season was possibly the best in the competition," Ronaldinho opined.
"We would relish meeting them again and give it everything, but hopefully with a different result."