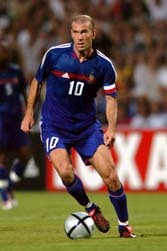 France coach Raymond Domenech says Zinedine Zidane's glory days may not yet be over and believes the player may his country to another World Cup triumph before calling it a day.
Speaking after Zidane annnounced he would be retiring after the World Cup finals, Domenech said: "I know he's eager to have a great World Cup in Germany and I'm convinced he can still write the finest page of his sporting history by winning another World Cup with Les Bleus."
Three-times World Player of the Year Zidane said on Tuesday he would retire after the finals in Germany, during which he will turn 34.
"Like all those who love football, I'm a little bit sad when I think that after the World Cup, we will no longer see Zidane on a football pitch, at the highest level anyway," Domenech said in a statement.
Tributes for Zidane came from fellow players Fabien Barthez and Thierry Henry.
"He's a monument and he's my friend," France goalkeeper Fabien Barthez told Canal+. "For me he's the player of the century."
"He's a gentleman of football," Arsenal and France forward Thierry Henry told French television.
"We will miss him. Now we must do all we can so he can leave on a high note."
Aime Jacquet, who was France coach when Zidane inspired France to victory in the 1998 World Cup, was another to pay tribute.
"A great champion is about to leave us," Jacquet said. "What I'm feeling is a lot of emotions and a bit of sadness.
"I think he's being very honest and perceptive by making that decision at the right moment," Jacquet added. "I think it's right for him to leave after playing one last World Cup with France. What a challenge that is for him."
Subscribe to World Soccer – The essential football magazine.