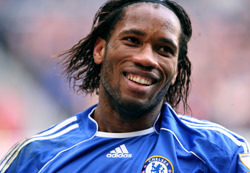 Chelsea striker Didier Drogba has admitted that the club are finding things "a little difficult at the moment" but has played talk of a potential move away from Stamford Bridge.
Drogba has struggled with form and fitness this season and he was left out of Chelsea's starting line-up for Saturday's 0-0 home draw with Hull City.
However, despite their current form and the current standings Drogba is confident both he and the west London outfit will overcome their current troubles.
"It's a little difficult at the moment, but we will find ways to return," the 30-year-old told L'Equipe. "I hope in the Champions League we will do well. You can't have a 10-year career where everything is great. I am in a period like that – a little less good.
"Is this difficult to experience? If I say no, people will say I am not ambitious. If I say yes, people will think I am demoralised when it is really not the case.
"It is not easy but it is not the end of the world. The main thing is that I am in good health physically."
The striker played down talk he could be interested in a return to Marseille, the club he left to join Chelsea in 2004.
"Nino (Sylvain Wiltord) is there and Brandao has just arrived. Let's trust these people rather than talk about Drogba," he said.