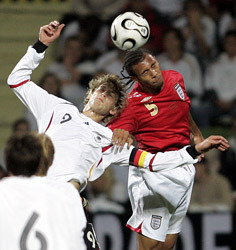 Betting on Football? Claim £500+ in free bets – click here now.
The English Football Association (FA) will make a formal complaint to Uefa after two England Under-21 players claimed they were the victims of racial abuse in Germany.
Micah Richards and Anton Ferdinand claimed they were called "monkeys" by opposition players in England's 2-0 victory over Germany.
An FA spokesman said: "We will be formally communicating with Uefa in the next couple of days."
West Ham defender Ferdinand added: "It's in the hands of the FA and I am sure they'll deal with it in the appropriate manner. I don't want to say anything about it at this stage.
"It's brilliant we've got through and the lads have dealt with everything with the utmost professionalism."
Uefa president Lennart Johansson has promised to investigate into the claims.
"This has to be investigated and it will have its consequences, that's clear," he told BBC Radio Five Live.
"I cannot make any other comments – except that that I am upset and it will be investigated.
"It is for the disciplinary board to decide on a punishment. I won't speculate on the outcome but racism is a very serious issue.
"Racism is something we have to fight and I'm convinced that our disiplinary board will take the necessary action," he said.
"But I can accept that people think fines aren't enough anymore. If you try something and it has no effect then you have to look at other options."
Betting on Football? Claim £500+ in free bets – click here now.