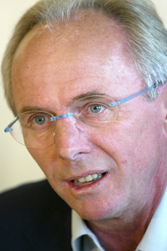 Sven-Goran Eriksson is set to become the next manager of Manchester City after reportedly agreeing a three-year deal with the Premiership club.
The 59-year-old former England coach will succeed Stuart Pearce, who was sacked at the end of last season.
Eriksson has not worked since leaving the England job after the World Cup in summer 2006.
City's current board refused to confirm any new manager.
"The board notes the media speculation concerning the managerial position at the club," read a statement on their official website.
"Earlier today [Tuesday], UK Sports Investments Limited announced that the offer document in respect of its offer for the club was posted to shareholders.
"Discussions are ongoing with managerial candidates and once the offer becomes or is declared unconditional in all respects, the club expects to announce the appointment of a new manager."
City's prospective new owner, former Thai Prime Minister Thaksin Shinawatra, identified Eriksson as his number one target to replace Pearce and is understood to have made a £50m transfer fund available to the new manager.
Last week he confirmed he had opened talks with the Swede.
"I have my advisors working on it," Thaksin stated. "Sven is one of the names they have given me.
"Sven has a very good reputation, he is a very capable coach.
"He has good connections, especially with the main players in the UK and Europe and that would help the club in getting new players to join in the future.
"I met him once, last week maybe. I had my advisor talk to him and just say hello and touch base. I didn't talk to him that long because my advisor did that interview.
Thaksin is currently seeking to complete his takeover of City which will be effectively accomplished when he buys 75% of the club's shares.
Eriksson has already approached Roland Andersson about becoming his assistant at Eastlands.
Currently Sweden's assistant coach, Andersson said he was "flattered" to be offered the role.
Eriksson, 59, has enjoyed plenty of success in club coaching with Gothenburg, Benfica, Roma, Fiorentina, Sampdoria and Lazio.