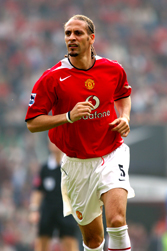 Rio Ferdinand, who has penned a new deal which will keep him at Manchester United for another four years, has admitted that he was hurt by the abuse he received from the club's fans.
Ferdinand had been involved in lengthy negotiations with United, but was unable to reach agreement, leading to him being abused by some United supporters during the club's pre-season campaign.
"It's not nice when you're getting stick from some supporters, particularly over something that was never true," Ferdinand told The Sun.
"I will never forget how the club stood by me during my eight-month ban last year and of course it hurts to suggest I would throw that loyalty back in their face.
"I have got a thick skin and have always accepted that criticism is something which comes with the territory.
"You are up there to be shot at when you play for a club like Manchester United and it's up to you to deal with it.
"But the supporters were reading all sorts of stuff about me that was totally wide of the mark and that has made things difficult in recent weeks."
Ferdinand also denied claims that he was holding out for a £120,000-a-week contract at Old Trafford
"I don't know where those stories came from but it was a load of rubbish," Ferdinand continued.
"I can't blame the fans for wondering what was going on. I would have asked the same questions if I was reading some of that stuff.
"The other United players were naturally asking me about developments. But I told them I would be staying at United and that was always my intention.
"I will be signing a new contract this week. The deal runs until 2009 but hopefully I can stay on beyond that."