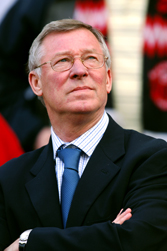 Manchester United manager Sir Alex Ferguson has confirmed that he is considering a transfer swoop on Juventus following the Italian club's relegation from Serie A.
Last season's Italian champions side were demoted for their part in Italy's match-fixing scandal, and their plight is expected to result in a mass exodus of players in the coming weeks.
"We held things back until we knew what the Juve situation was," said Ferguson.
"Now we know where we're going in terms of making inquiries and maybe definite offers for one or two players."
Ferguson said Gianluigi Buffon, Gianluca Zambrotta, Fabio Cannavaro, Lilian Thuram, Emerson and Patrick Vieira were "the ones that people will be focusing on", adding that one or two "could maybe have free transfers if they were going outside of Italy".
Ferguson also revealed that striker Ruud van Nistelrooy would not be leaving Old Trafford on the cheap.
The Dutch forward was left out of the United first team for most of the second half of last season and has been linked with a move to Real Madrid.
"There's a possibility that Ruud will go," said Ferguson.
"There have been bits of interest in him, but no one at this moment has reached our asking price.
"It's no surprise, really, that he asked to go, but when you see that Andriy Shevchenko went for £30m, he's a similar age to Ruud and their record in Europe is almost identical.
"You can absolutely guarantee that we're not going to give Ruud away."