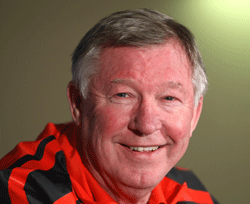 Man United are now a best price 9/1 for the Champions League after qualifying for the quarter-finals on Tuesday night…
Sir Alex Ferguson described Javier Hernandez as 'unbelievable' after the Mexican striker scored both goals in Manchester United's 2-1 win over Marseille.
The victory ensured United reached the Champions League quarter-finals for the fifth consecutive season.
Asked about the partnership between Hernandez and Wayne Rooney, who set up the first goal, United's manager said: "It has developed very well.
"Where Wayne has been playing in the last couple of games, he is a real threat to teams because he has got such power and speed with the ball.
"And, of course, Hernandez is unbelievable, his movement. Did you see his movement for the (opening) goal?
"He has made three different types of run – in, out, in, out – and the boy has just got goals in him."
Ferguson acknowledged that his players suffered a nervy evening, with injuries to right-back John O'Shea and his replacement Rafael Silva, causing some confusion in the United rearguard.
Ferguson said: "It was nervy because we kept having players taken off with injuries and it shook the balance of the team in a big way.
"I thought we were quite comfortable, and then O'Shea is off, and then Da Silva (Rafael) is off. We had made a substitution, which was a killer because we could have brought (Darron) Gibson on to give us a bit more height.
"The problem tonight was always going to be height. Their (Marseille's) set-piece play, of course, was very good and it caused us a lot of problems."
Asked who he would like in the last eight, Ferguson said: "You just take what you get.
"We go through this over the years and you say, 'I hope we get this or I hope we get that'. You never get what you want."
Marseille coach Didier Deschamps thought that his players could have done a better job of dealing with an understrength United side.
"It was not a great Manchester team, they had a lot of absentees," he said. "I think we missed an opportunity because we had the chances. We conceded twice but there was room to do better. Manchester have great players up front and it was the difference even if they were not on top form.
"What we lack is being used to that level. Even if they lacked some players, they played at a very high level of football. There are regrets. We were very shy in the first 20-25 minutes. The stakes, the atmosphere can explain that. I have young players in my team and it was difficult at Old Trafford.
"We improved after that and we finally competed. At 2-1, I really felt that they were nervous. Unfortunately we failed to score the second goal. In such games you need to approach them quite relaxed and I felt the players were a bit tense. We tried but it was not to be."
Man United are now a best price 9/1 for the Champions League after qualifying for the quarter-finals on Tuesday night…
Take advantage of the sales by saving up to 36% on a subscription to World Soccer