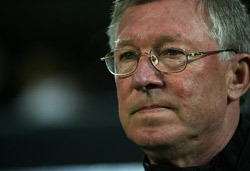 Things don't get any easier for Middlesbrough, who are fighting for their lives at the foot of the table, as Man Utd are next up for Gareth Southgate's team.
There was cause for optimism for both managers following Manchester United's 1-0 win over Arsenal in Wednesday UEFA Champions League semi-final first leg, although United boss Sir Alex Ferguson admitted his side may rue a series of missed opportunities in a game they dominated from start to finish.
Ferguson's opposite number, Arsène Wenger, admitted his side had not been at their best, though he remains confident the situation can be retrieved in the second leg next Tuesday.
United secured a valuable 1-0 lead to take to the Emirates next Tuesday, courtesy of John O'Shea's first-half strike, but the Reds' manager acknowledged that poor finishing cost his side a more comfortable victory.
"Of course [I'm disappointed]," he said. "We had good chances and their goalkeeper made one or two fantastic saves. However, we said before the game to win without conceding a goal and we've achieved that. The performance level was good and we've given ourselves a good chance of going through, but of course the tie isn't over.
"We know we can score at their ground. We haven't lost a goal and I think that's key to it all. [Wenger] has to be confident, he'll be thinking it's a good day for him – they could have been out of the tie and they're not.
"Our fans are frustrated, we could be into the final and we're not, but that's the nature of the club. We did it the hard way in the last round against Porto too. Arsenal had possession but without doing anything with it. We contained them very well. I don't think that's the fault of Arsenal, that's down to our defenders. When we concentrate well, we can do that.
Ferguson paid tribute to O'Shea who scored only his second Champions League goal for United.
"O'Shea took [the goal] really well, the ball deflected off one of the defenders and came off the surface quite quickly, but he controlled it well," he added. "It was a good finish. John is one of the great professionals, he never complains and is happy to play anywhere. He knows that over the years he's not always been a No1 choice but he makes a contribution we've been grateful for.
"He's so versatile he can play in many positions and that's of great value to us. This season he's played a lot more games because of the injuries we've had and if you asked me now if he'd be in the team for the final I'd have to say yes.
For Wenger, there was relief that his side were still in the tie after playing much of the game on the back foot.
"It was a difficult game played at a high pace," he said. "United started stronger than us and if you look at the clear-cut chances of course they were on top tonight. The positive is that we're only 1-0 down, we're at home [in the second leg] and I'm convinced that you'll see a different Arsenal team and we can reverse the result.
"Football is like that; you can play tomorrow and see a different game. We have the quality to do that. The tie is still very open. They can have regrets because they didn't score a second goal – and it's down to us to make them regret that.
"[Manuel Almunia] was excellent, top class in every sense – reading of the game, decision-making, quality, sharpness – top class in every way tonight. [Kieran] Gibbs had very good game again today, he's a very promising full-back.
The Frenchman conceded that Arsenal had not shown much of an attacking threat at Old Trafford.
"We were not dangerous enough offensively today," he continued. "After the first 20 minutes the game was more balanced than you would think here. We were not sharp enough in the final third, defensively we were quite sharp but we were in a position where we had to come out. That meant United could play the way they love to play, on the counterattack, and that was a clear advantage for them.
"It's a good opportunity to show our character and our mental strength – and I'm confident you will see that. Of course [it would be Wenger's biggest win against United] because there's a final at stake – when you play at home you are up for it. I'm confident because I believe we will be on top next Tuesday and you will see a different Arsenal team."
Things don't get any easier for Middlesbrough, who are fighting for their lives at the foot of the table, as Man Utd are next up for Gareth Southgate's team.
For more fascinating features, subscribe and save 30% and use the below link?