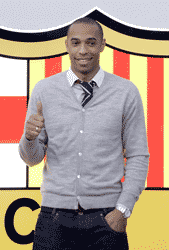 French striker Thierry Henry has completed his £16.1m move from Arsenal to Barcelona.
Henry, 29, successfully underwent a medical on Monday before being unveiled at the Nou Camp.
"I'm really pleased to be here," said Henry, who has signed a four-year deal with the club.
"I am finally here and happy to be here and can't wait to play and show what I can do to the fans.
"Hopefully, I can be a great asset for the team.
I haven't set any targets or objectives. It has to be a club target.
"Barcelona is always a club that wants to win everything. I am going to try my hardest to help as much as I can.
"It has to be a team effort right from the start.
"I have to live and breathe Barcelona," said the French striker. "It's a dream for everyone to win the Champions League and I'm sure it'll be the dream of Barcelona to win it again next season.
"It's the only thing I didn't win at Arsenal but the most important thing is that Barcelona is successful and they win silverware."
Barcelona president Joan Laporta admitted Henry is a player the club have been interested in signing for a number of years.
"Thierry Henry is a player we've been after for many years and now he's here," said Laporta.
"Johan Cruyff wanted to sign Thierry Henry for Barcelona when he was a young player.
"When I was elected president in 2003 I wanted to sign him, we also wanted to sign him last year and today it is a great pleasure to see him here.
"He is one of the best players in the world and given his quality, experience and commitment he comes to Barcelona at the perfect time."