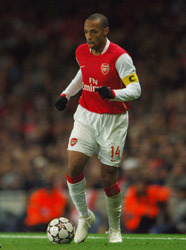 French forward Thierry Henry has evaded questions about his Arsenal future amid speculation that Barcelona and Internazionale are prepared to bid for his services.
"I already answered so many times … You know already the answer," he said when asked at a press conference here if he would be with Arsenal next season.
Henry has been critical of the club for focusing on the development of youngsters at the expense of the more experienced players, who he believes are vital if the club is to challenege for honours. Earlier this week, when quizzed about his plans, he replied, rather cryptically, that he was an Arsenal player "for now."
Gunners boss Arsene Wenger has repeatedly stated that the player is going nowhere despite Spanish press claiming he has already held talks with Barcelona.
British newspapers reports have also claimed that Inter were ready to step in and make a £15m bid.
Henry has not played since March due to stomach and groin injuries and said he was trying to regain his fitness in time for the start of the 2007-08 campaign.
"I surely know what I've done at Arsenal so far … but at the moment, it's really important for me to be back on track," he said.
"And talking about improvement, I am the type of a guy who says you can do always do better. So definitely, we can surely do better," he said.