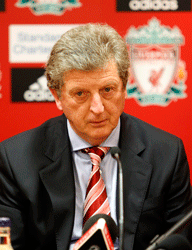 Japan are current favourites to lift the AFC Asian Cup in Qatar this month – see all the latest betting here
Under-fire Roy Hodgson refused to discuss his future as Liverpool manager following Wednesday's 3-1 defeat at Blackburn.
Another disappointing performance saw has left Hodgson's short reign at Anfield in jeopardy.
The defeat marks Liverpool's ninth this Premier League season, leading to calls fro supporters for Hodgson to be axed.
And in a brief press conference following the Rovers clash, 63-year-old Hodgson declined to discuss his position.
"I am not prepared to talk about that because obviously I am depressed enough with the performance and the result," said Hodgson.
"I have no comments to make and I have no intention to answer any questions on the subject.
"Unfortunately when you are Liverpool and you lose away to Blackburn there is nothing that can be said which will put a positive slant or make the situation look any brighter.
"As far as I am concerned it is a really bad day and there is not much more I can say other than, to the fans, that anything they are feeling I can assure them the feeling is equally as bad and equally as depressed in the dressing room.
"It was a performance anything other than the performance we wanted to give."
Japan are current favourites to lift the AFC Asian Cup in Qatar this month – see all the latest betting here
Take advantage of the January sales by saving up to 36% on a subscription to World Soccer