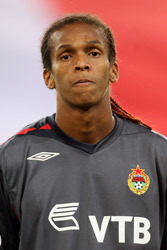 Manchester City striker Jo has revealed he is 'happy' to have joined Everton on loan for the rest of the season.
The Brazilian has suffered a difficult introduction to the Premier League since an £18million move to City from CSKA Moscow last summer.
He had scored just once in nine league appearances for City, but has now headed to Goodison Park to ease Everton's striking injury crisis.
Jo had been a long-term target for Moyes and the 21-year-old admits he is looking forward to playing for Everton.
"I am very happy and pleased to be here," Jo told the club's official website.
"I have known about the interest of Everton since the beginning of the year and I'm happy to be here.
"I hope to score as many goals as I scored in Russia, but I am well aware that the Premier League is a tough league."