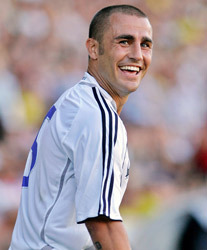 Juventus have denied reports they are interested in re-signing Real Madrid defender Fabio Cannavaro.
Reports in the Spanish press claimed Juve were keen to bring the 33-year-old World Cup winner back to the club as they look forward to life back in Serie A.
Cannavaro has admitted he is keen to finish his career with Juve or Napoli and is reportedly unhappy in Spain following the sacking of Madrid boss Fabio Capello.
However, Juve director general Jean-Claude Blanc says they are not interested in Cannavaro and the purchase of 29-year-old Jorge Andrade from Deportivo La Coruna demonstrates they are looking at younger players.
"When we started looking for a new defender, Cannavaro was on the list, but he made a choice last year," he said.
"We decided to take another road and build for the future of Juventus and that road is represented by Jorge Andrade."