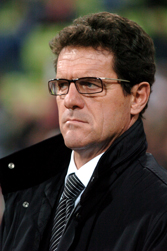 Juventus extended their lead at the top of Serie A with a hard-fought 2-1 win over Lazio.
Fabio Capello's men came back from an early deficit to beat Lazio 2-1 to restore its four-point lead in the Italian league.
"In the first half we were not the usual team, and Lazio deserved the advantage," said coach Fabio Capello
"But in the second half, we raised the bar, playing with more determination, finding again our identity."
Juve equalised five minutes before the break through Uruguayan Ruben Olivera, and Swedish striker Zlatan Ibrahimovic secured the points with the winner a quarter of an hour from time.
"We had the first scoring chance hit the crossbar, then right away we gave up an avoidable goal, we were too nice with Pandev," Juventus coach Fabio Capello said.
"But then we were patient in moments of difficulty and we recovered."
Defending champion Milan had cut Juventus' lead to one point with a 2-1 victory at Parma on Saturday.
Juventus leads with 35 points, followed by Milan with 31. Udinese, who beat Siena 1-0 lie third with 25.