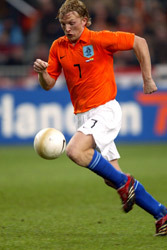 Premiership Top Goalscorer – Henry 5/2, Rooney 14/1 – Click here to find out the latest odds.
Liverpool have completed the signing of Feyenoord's Dutch striker Dirk Kuyt.
The 26-year-old passed a medical on Thursday before completing a deal which is believed to have cost Liverpool about £10m.
"I think Liverpool is a fantastic club, a very big club and for me it's a dream to play for a club like Liverpool," Kuyt told Sky Sports News.
"There were a few clubs who wanted me in the Premier League, but it's all about feeling and Liverpool gave me the best feeling. I really want to play for this club.
"It has taken a while. The guys from Liverpool gave me the trust that it would all come together. I'm very happy I'm here and I can't wait to play.
"I know Liverpool have been interested in me for a long time. When I heard about that, it gave me a special feeling.
"I said in Holland that I only wanted to leave for a bigger club. I think Liverpool is a fantastic club with a fantastic history."
Kuyt insists he is not worried by the pressure that may come with his reputation as a prolific goalscorer.
"I'm getting used to the pressure so it's no problem for me," he said. "The only thing that is important is the team going to win and it's not so important how many goals I score.
"I know I can score goals. I also scored lots of goals with Feyenoord and I expect a lot here, but I'm not a player who is going to say I will score 15 or 50 times.
"I'm a player who has said he wants to win trophies – that's the most important thing.
"I can't wait to play in my first official match. It's very exciting. I think it's the best league in the world, so I can't wait to start," Kuyt continued.
"English football in Holland is very famous. Every weekend almost all the matches are live so I've watched a lot of English football.
"I think I can do well in this competition. I like to see the matches every week, so now it's going to happen for me to play myself in the Premier League."
Liverpool manager Rafael Benitez told Liverpool's official website: "He will be a good player for us.
"He's a player with good game intelligence. He knows what to do with the ball and without the ball and he's also a very good worker."
Liverpool's capture of Kuyt ends the pursuit for the Dutch international, who was also a target for Newcastle.
"His movement is good, his finishing is fantastic and I know he will score a lot of goals for us because we now have more possibilities in the wide areas and also between the lines," said Benitez.
Kuyt previously said Liverpool were his dream club.
"For me, Liverpool is sure to be the dream club I was looking for," Kuyt told the Liverpool website.
"There was more interest from abroad, but for me there was nothing of the calibre of Liverpool, a brilliant club with an enormous reputation."
Feyenoord chairman Jorien van den Herik said he was disappointed to lose Kuyt, but could do little to stop him going when it became clear that Liverpool were interested.
"We went a long way to doing that and Dirk was open to that, but we knew that the chance was he would leave if his dream club came in. Liverpool is his dream club.
"Many clubs have tried to contact Dirk over the recent period, but he's said no to clubs every time.
"That characterises Dirk's attitude: either Feyenoord or my dream club."
Premiership Top Goalscorer – Henry 5/2, Rooney 14/1 – Click here to find out the latest odds.