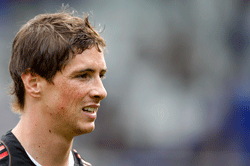 Brighton are now a best price 1/10 to win League One after extending their lead to 10 points last night…
Liverpool director of football Damien Comolli believes the club a happier place now that striker Fernando Torres has left the club.
Chelsea smashed the British transfer record to take Torres to Stamford Bridge for £50milion in January, after the Spain international handed in a transfer request.
The actions in the run up to his move and subsequent snipes at his former employers – when he claimed: "there are more personal relationships and jokes between the players than there were at Liverpool" – angered many at Anfield, but Comolli says that Kenny Dalglish's side are better off without Torres.
"Getting two players triggered the fact that we could sell one player who didn't want to be here and get two who did want to be here," he said. "When you have someone who doesn't want to be here and you swap him for people who want to be here the atmosphere changes.
"It's like there is a bright new sky with no cloud over our head from the day that happened. So it's been only positive. That was really a relief for those reasons."
Liverpool owner John W Henry also referred to Torres' departure lifting the mood at the club, saying: "It's all very positive. Someone was saying that people weren't happy here, but I think since that person left, people are happier."
Comolli is confident that progress can be made quickly under the new American owners Fenway Sports Group (formerly NESV).
"I know there is still a lot of work to do, we're not where we want to be yet and it'll probably take a few months to do that, but I am totally confident," Comolli said. "All the signs are very positive and I can see only green lights, no red lights.
"We've had some ups and downs and hopefully there will be a lot of ups in the future. With the backing of the owners and the way they are committed, I'm sure we'll have a bright future. I think we know exactly where we want to get to.
"It was a tough decision (to get rid of Roy Hodgson) made by the club, but we have been looking forward since that and making other appointments with key individuals as we look to restructure the club. We are definitely looking forward to a bright future."
Brighton are now a best price 1/10 to win League One after extending their lead to 10 points last night…
Take advantage of the sales by saving up to 36% on a subscription to World Soccer