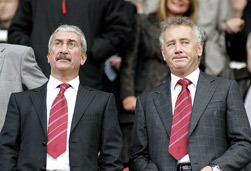 Help us with a Sport and Betting Survey! Click here to take part now.
Liverpool chief executive Rick Parry has mocked Chelsea's achievements this season following their Champions League exit at the hands of Merseyside outfit.
In the build-up to the game, Chelsea manager Jose Mourinho described Liverpool as a small club and a cup team before the game.
"I don't care what he says, I don't listen," Parry told Radio Five Live.
"I guess when you've invested £500m it's a fantastic season to win the League Cup. He's welcome to his opinions, we care about Liverpool."
Liverpool beat Chelsea 4-1 on penalties and will now meet face either Manchester United or Milan in the final.
Parry hailed the Anfield the atmosphere which he believed matched that of their Champions League semi-final win over the Blues at the ground in 2005.
"It was another fabulous Anfield night," he said. "I thought we'd never see anything to beat the atmosphere in 2005, but I think this equalled it.
"It was very, very special and I think you only get these nights in Anfield.
"The supporters were fantastic and the players and manager have done a fantastic job and done us proud. It was magnificent to be there."
Parry admitted there could be security concerns if Manchester United beat Milan to set up an all-English final.
"There will be concerns from a security point of view if it's two English teams, sadly," he said.
"There will be issues we'll have to address. There will be a lot of supporters from both teams travelling without tickets, which the authorities will have to deal with.
"A lot of careful thought and planning would definitely be required."
Despite their Champions League success, Parry admitted that the club's ultimate ambition was still to win the Premiership title.
Parry said: "For us, the big prize is the Premier League, we've made no secret of that.
"Every one of us wants to be a Premier League contender. We're not quite there, but we'll do everything in our power to make sure we get there."
Help us with a Sport and Betting Survey! Click here to take part now.