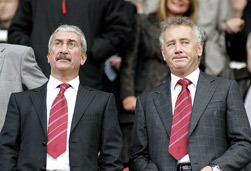 Liverpool have revealed that they are in talks with investors about a possible takeover bid for the club.
The European champions have been looking for outside investment for some time as they look to secure funds to help hem build a new stadium.
Several potential investors have been linked with the club but until now the club has been swift to deny the reports.
However, the club have now confirmed that they have held talks with a number of investors which could lead to an offer for the club.
"The board of Liverpool FC has noted the recent press speculation concerning possible third-party investment into the club and can confirm that it is continuing discussions with a number of parties regarding a potential investment of new funds into the club," read a club statement.
"Although the structure of any such investment is uncertain, it may include an offer for the entire share capital of the club.
"Shareholders will be kept updated as appropriate."
Current Liverpool chairman David Moores has a 51 percent stake in the club and it is believed he is ready to sell his stake so that new funds can be made available to fund the move away from Anfield.
Spanish businessman Juan Villalonga, who was formerly the president of telecoms firm Telefonica, has been linked with the club in recent days.
Earlier this week he told the Daily Express: "I want Liverpool to change from a domestically-focused club into a global force."
Local property developer Steve Morgan failed in his bid to buy into the club, and Liverpool have also been linked with US billionaire Robert Kraft.
Subscribe to World Soccer – The essential football magazine.