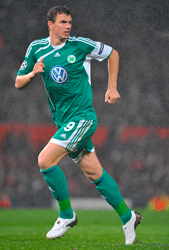 Gavin Beech has a 5/4 tip to share for tonight's Fulham v West Brom clash at Craven Cottage
Manchester City manager Roberto Mancini has confirmed a fee has been agreed for Wolfsburg striker Edin Dzeko.
Mancini has been linked with a move for the Bosnian striker and the player is understood to have written a letter to City last month expressing his desire to move to Eastlands.
Mancini has now confirmed the two clubs have reached an agreement, with City set to pay Wolfsburg £27 million.
"We have agreed a fee," he said. "He is a good player and all the teams in Europe want him, but we have an important game at Arsenal coming up and I will speak about him after that."
Second-placed City face third-placed Arsenal on Wednesday with both David Silva and Mario Balotelli having been ruled out through injury.
"It is a big problem," Mancini said. "Neither of them will be available. David has been an important player for us and has been doing well recently. Hopefully, he will be back for the Wolves game on January 15.
"Mario might be back for the FA Cup tie at Leicester on Sunday."
A victory at Emirates Stadium would only strengthen the suspicion that City can be serious challengers for the title this season, but Mancini has been keen to play down their prospects.
"Arsenal, Chelsea, United and Tottenham all have more experience than us," he said. "Probably one of those four teams will win the title.
"We just want to work, so we can improve and try to keep getting better."
Meanwhile, City striker Roque Santa Cruz has expressed his determination to leave the club and sign for Lazio.
"I am talking to Lazio and I can't wait to land in Italy and wear the blue and white shirt," Santa Cruz told La Repubblica.
Gavin Beech has a 5/4 tip to share for tonight's Fulham v West Brom clash at Craven Cottage
Make sure you don't miss any of the last news and articles from World Soccer. Subscribe to World Soccer today and save up to 33%