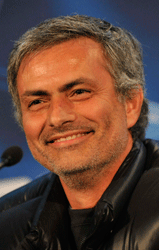 Arsenal are now a best price 6/1 for the FA Cup after overcoming Leeds 3-1 last night
Manchester United chief executive David Gill has refused to be drawn on who Manchester United's next manager will be, but admits Jose Mourinho is 'a good manager'.
Sir Alex Ferguson remains in charge and has given no indication that he is considering stepping down any time soon, but contingency plans are already being drawn up for his eventual departure.
The man who inherits Ferguson's job will face the unenviable task of sustaining success at a club that has dominated English football in the past two decades.
Various coaches have been touted as potential candidates, but current Real Madrid boss Mourinho is the man regarded as the best United would like to appoint.
Gill has conceded that the former Mourinho may well be an option when the search for a new manager begins.
He said: "Alex is on a rolling contract, he is on the record as saying that he will continue to manage as long as he keeps fit, so while we follow what is happening in football, I am not going to sit here today and say who we have in mind because we don't know what the time frame is.
"I am sure there are some other good managers around. [Mourinho is] a good manager."
Arsenal are now a best price 6/1 for the FA Cup after overcoming Leeds 3-1 last night
Take advantage of the January sales by saving up to 36% on a subscription to World Soccer