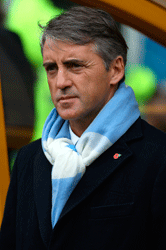 Can QPR move a step closer to promotion by beating Derby County at Loftus Road tonight? See all the best betting here…
Roberto Mancini has responded to critics of Manchester City's transfer policy, claiming his Premier League rivals have also spent big and that City are looking to develop a squad of young players.
Mancini believes City are being unfairly criticised for their spending following the takeover by Sheik Mansour two-and-a-half years ago.
He added: "Many times I've been asked about our spending but we didn't buy Cristiano Ronaldo, (Lionel) Messi. We bought young players, good players.
"All these players need to improve because it's the first year they're playing in the Barclays Premier League. If I'm not mistaken, many years ago when fantastic players came to England, like (Eric) Cantona, at the start it was difficult."
But he added: "The manager, I think, needs time because, in one year, you can't build a strong team. It's important that you improve every week."
City reached the FA Cup final on Saturday at the expense of arch-rivals Manchester United and in doing so, Mancini believes they have overcome a huge psychological barrier.
Mancini said: "Our mentality will be more strong because we beat United – and United played with their best team. (They were) without (Wayne) Rooney, but we played without (Carlos) Tevez. You can win against them only if you play very strong, you play very concentrated. If not, it's a difficult day. They win because they have more experience. But now, if we work, we can arrive very, very close to them.
"The final will be harder because probably we will go in the final and we are favourite. In 90 minutes, anything can happen. If we play with the same spirit, we can win. If not, we don't win."
United fans have a well-known banner at Old Trafford which is updated every year City go without winning a trophy. It recently ticked around to 35 years and Mancini said: "They can take off this banner. We hope we can take it off this year."
Can QPR move a step closer to promotion by beating Derby County at Loftus Road tonight? See all the best betting here…