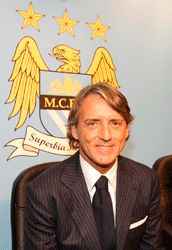 Will Chelsea wrap up the Premier League title by beating Wigan at Stamford Bridge? See all the betting here.
Roberto Mancini will remain Manchester City manager for "many years", according to the club chairman Khaldoon Al Mubarak.
City's hopes of qualifying for next season's Champions League ended with Wednesday's 1-0 defeat by Tottenham, but speculation about Mancini's position has been dismissed by the City chairman.
"Roberto's going to do a wonderful job for us for many years," Mubarak told Manchester City's official website.
"Roberto is our manager. He's done an excellent job coming in mid-season, organising the team. I'm very happy, and [owner] Sheikh Mansour's delighted with the way he's organised the team."
Mubarak added: "We believe he is definitely the right manager for this club for many years. What he needs this summer is time to prepare and really organise ourselves.
"We know the areas that need to be improved within the club. A good pre-season followed with a good start to the season and I'm really excited for next year."
The City chairman insisted that he viewed the season as a success after the club improved on last year's Premier League finish of 10th place.
"It's been a wonderful season," reflected Mubarak. "We've gone a long way as a team and I feel very good about next year because we've crossed an important milestone as a club. Next year's going to be a very important year for us.
"It's been an incredible season. We can focus on last night or we can focus on the season as a whole – I prefer to do that.
"Fifth is not where we would like but it's a major jump. It's a major achievement for this club to move from 10th to fifth place."
Looking ahead to the summer, it seems likely that Manchester City will again be big movers in the transfer market.
"Manchester City is now a real force to be reckoned with in this league and the acceleration of investment really has put us in this position maybe a year early," continued Mubarak. "That gives us a much better position this summer to work from."
Will Chelsea wrap up the Premier League title by beating Wigan at Stamford Bridge? See all the betting here.
Make sure you don't miss any of the last news and articles from World Soccer. Subscribe to World Soccer today and take advantage of our all 50th anniversary offer, saving up to 50%!