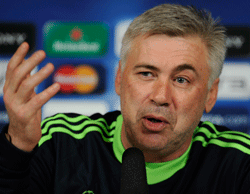 Football betting expert Gavin Beech gives his top tips for Chelsea's visit to Blackpool tonight…
Carlo Ancelotti has admitted there was a bad atmosphere in the Chelsea camp during their poor run of form towards the end of last year.
But the Italian believes that last week's victory over leaders Manchester United could be the key to reviving his side's erratic season.
Ancelotti has acknowledged just how low spirits sunk at Stamford Bridge during those miserable pre-Christmas months.
"A lot of times in the past, I've said the atmosphere is good," said Ancelotti.
"Sometimes it wasn't really good because the players had more difficulties to train, with less confidence. Now the confidence has improved with the results.
"The atmosphere is really good.
"The players are training well with confidence and ability, so I have confidence in the future.
"When you win against United, it means you're good enough to play against stronger teams.
"So this result obviously improves your confidence."
Chelsea's hopes of defending their Premier League title were given a boost this weekend when leaders United lost at Liverpool, while second-placed Arsenal could only manage a goalless draw at home to Sunderland.
Victory at Blackpool on Monday night would leave the defending champions nine points adrift of the Red Devils, although Ancelotti is taking nothing for granted.
"It's the wrong way to prepare by thinking it will be easier against Blackpool than United," he said.
"We have to be more in focus against them than against United.
"It's easy to stay focused against United because there's so much attention on the game, and a lot of pressure.
"There is less pressure against Blackpool, so my aim is to maintain their focus."
Football betting expert Gavin Beech gives his top tips for Chelsea's visit to Blackpool tonight…
Take advantage of the sales by saving up to 36% on a subscription to World Soccer