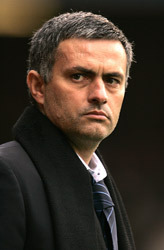 Compare football odds from over 25 bookmakers and claim £500+ in Free Bets. Click here for offer!
Chelsea manager Jose Mourinho has admitted it would be an 'honour' to manage Real Madrid.
Mourinho's future at Chelsea has been the subject of constant speculation in the last few months amid reports of an rift with the club's owner Roman Abramovich.
Mourinh admitted at the weekend that he clashed with Abramovich over the club's refusal to sanction any transfer deals in the January transfer window, fuelling conjecture that he might leave the club in the summer.
Real Madrid have endured a disappointing campaign and there is a question mark over the future at the Bernabeu of coach Fabio Capello.
Capello's job is under increasing pressure following last week's Champions League exit to Bayern Munich.
Mourinho, who was in Spain to watch Champions League opponents Valencia, told Spanish television he would be interested in a switch to Real, but ruled out any move next season.
"For me it would be an honour to be in the bench of Real Madrid," Mourinho told Canal Plus.
"I do not discard this in the future but not now.
"I know the rumours in the papers but I don't any more.
"It is possible that Real is not interested in me."
"I reject the option of Real for the next season because I have a contract until the year 2010 with Chelsea.
"I am lover of English football.
"Today Real Madrid have a big coach like Fabio Capello."
But, despite his enthusiasm for the Spanish club, Mourinho remains committed to seeing out his contract with the Premiership champions.
"What I can tell is that, as always, the press choose the words they want to choose and not the words that people say," he told Sky Sports News.
"Especially, when you don't tell it completely, you take it completely out of context.
"A journalist asked if I would like to train Real Madrid, the answer was that every coach would like to do it.
"I would be honoured to work in a club like Real Madrid.
Compare football odds from over 25 bookmakers and claim £500+ in Free Bets. Click here for offer!