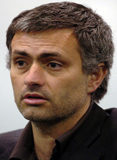 Chelsea manager Jose Mourinho is confident his side will bounce back from their first defeat of the season following their 1-0 loss to Manchester United.
"United were not the best team on the pitch," he said after a Darren Fletcher header ended their 40-match unbeaten run in the league.
"I hope they can realise why Chelsea are champions, top of the league and I believe will be champions again.
"I think the difference between us was only luck to be fair."
Following the midweek defeat to Real Betis in the Champions League, Sunday's game marked the first time Chelsea have lost consecutive games under Mourinho and the defeat to United was only the second league defeat since he arrived in the summer of 2004.
"I finished the game in Seville with a very bad taste but I am proud of my players and not afraid of the future," added Mourinho.
"I don't think we deserved to lose today but I give them credit for the way they defended.
"We are disappointed but it's one thing to lose after a very bad performance and another to lose after a good game of football."
At a similar stage of last season, United defeated unbeaten leaders Arsenal, a loss that initiated a collapse for Arsene Wenger's side which ultimately cost them the title.
But Mourinho believes his side is made of sterner stuff.
"When Arsenal lost here the difference was small and they were very close to the other opponents but at the moment we still have a comfortable distance between us and the others," said Mourinho.
Subscribe to World Soccer – The essential football magazine