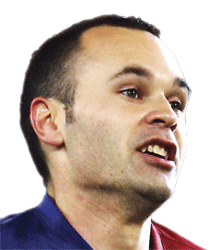 The finest player in the world, for most people, would be Leo Messi or Cristiano Ronaldo, though other candidates would be lined up depending on club or national-team loyalty. Wayne Rooney, however, has his own idea: Andres Iniesta Lujan.
Manchester United's England striker laid that accolade on the Barcelona midfielder immediately after the world and Premier League champions had seen their European crown snatched away in Rome.
Iniesta is certainly a man of the moment. He played a key role in Spain's Euro 2008 triumph, has made Spanish football history this season with Barca's treble-winners, scored that dramatic late, late equaliser against Chelsea at Stamford Bridge which edged his side into the Champions League Final…and then provided an electrifying display (despite being handicapped by injury) in the Olympic Stadium which included setting up the opening goal for Samuel Eto'o after just nine minutes.
It was a strike from which United never recovered.
Iniesta, born in Albacete on May 11, 1984, may have come to international fame a little late, but for followers of Spanish football his qualities have been evident for a decade.
A European champion at Under-16 and Under-19 level, he was a World Youth Cup runner-up in 2003 before becoming captain of Spain Under-21s. Juan Santisteban, the country's legendary youth coach who twice won the European Cup at wing-half with Real Madrid, never harboured any doubts about Iniesta.
"He came from a working-class background and he brought those values to his football from a very early age," says Santisteban. "That is why he went straight through the Barcelona youth academy so quickly; that is why he progressed through the national team so quickly.
A player who works so hard is worth his weight."
Iniesta learned his football with Albacete – starting at the age of eight – and was later picked out at a tournament for 12-year-olds by Barcelona.
At 16 he was training with the seniors, promotion to the Barcelona B nursery set-up followed, and he made his senior debut in 2002-03 under Louis Van Gaal.
He made his mark as a supersub in the 2006 Champions League triumph over Arsenal in Paris, joining the game with Frank Rijkaard's Barcelona 1-0 down but ending up with a winner's medal. Now able to wear his favoured No 8 shirt again after the departure of Ludovic Giuly, Iniesta is again a European champion at both club and national level.
Until Rome his major claim to international fame had been as the only player to start all Spain's games at Euro 2008 and his inclusion in UEFA's squad of the tournament.
But nothing stands still in football. Suddenly Iniesta's reputation has progressed to another level. Best in the world? Certainly one of them.