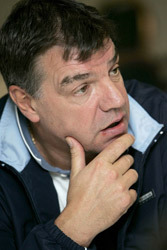 Help us with a Sport and Betting Survey and win a £50 Free Bet! Click here to take part now.
Newcastle have appointed Sam Allardyce as their new manager.
The Newcastle post became vacant eight days ago when Glenn Roeder resigned following the 2-0 home defeat by Blackburn. Allardyce, who resigned from Bolton the previous week, has signed a three-year contract at St James' Park today.
Freddy Shepherd, the Newcastle chairman, convinced Allardyce that his future lies at the club amid speculation that Manchester City regarded him as a suitable replacement for Stuart Pearce who was fired on Monday.
The former Blackpool and Notts County boss, who turned down the chance to manage Newcastle just under three years ago, was interviewed for the position of England boss last summer, but missed out on the position to Steve McClaren.
Allardyce told the Newcastle Evening Chronicle: "This is the greatest challenge I have ever had.
"But it is one I am excited about and one I am looking forward to."
"It is no secret that what has happened in the past is not good enough for a club as big as Newcastle United, and it is now my job to change all that.
"After leaving Bolton Wanderers last week, I was expecting a longer rest, but once chairman Freddy Shepherd opened that door, I was in.
"Whatever may or not be said about Freddy Shepherd, when I met him in London on Friday, I could feel his passion for Newcastle United.
"He is a passionate supporter and it is well-known throughout football that he has always supported his managers.
"Now it is up to everyone from Freddy down, to me, the players, the fans and even the tea lady to give these fans the success they deserve."
Allardyce arrives at a club desperate to regain a place near the summit of English football, with a place in Europe deemed the minimum requirement for the new incumbent.
"The first job for the new manager is to get Newcastle back into the top six in the Premiership and to make sure that the club is playing regularly in Europe. That is the minimum we expect," Shepherd said at the weekend.
"Where we are in the Premier League this season simply isn't acceptable to either me or our fans.
"This managerial change is about re-establishing Newcastle United as a formidable power both in the Premiership and Europe.
"Sam Allardyce knows that a club with Newcastle United's support, resources and wage bill must be challenging at the top end of the table.
"But you only have to look at what he achieved in transforming Bolton to know that his credentials match the job description."
Help us with a Sport and Betting Survey and win a £50 Free Bet! Click here to take part now.