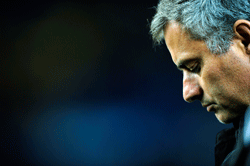 Gareth Bale is odds-on to win the PFA Young Player of the Year award after his sensational start to the season. See all the best odds at easyodds.com
Jose Mourinho has denied Real Madrid were humiliated after they suffered a 5-0 defeat at the hands of arch-rivals Barcelona on Monday night.
Goals from Xavi, Pedro, two from David Villa and a last-minute effort from Jeffren saw Barcelona secure a victory that sends them top of the Primera Liga and inflicted the worst defeat of Mourinho's career.
Real also saw Sergio Ramos dismissed late on, but Mourinho denied the result represented an embarrassment for his side.
"One team played very good, one team very bad," Mourinho said. "One deserved to win and deserved to lose. Humiliated? No. It's easy to deal with this loss, we just weren't good enough.
"We gifted them two goals that were almost ridiculous. I was watching the game. I tried to change things at the interval and we came out quite well, but then they scored again and there was nothing I could do – the game was lost.
"Last week we had a point more than Barcelona and today we have a point less. And as I have always said, Barca is the finished article while Madrid is still a long way off that."
Guardiola – who when asked if this result could result in Mourinho's departure, in the way that an 8-0 win over Almeria saw Juanma Lillo lose his job, replied: "I don't think so".
"This match isn't representative of the difference between the two teams. They are a very good team, they came here unbeaten and as league leaders. Today all of our players played well and that was the difference.
"Now it's very easy to we are better than them, but only time will tell. In a few years time, we will see. They are on a spectacular level, but we were better today.
"In these two years we have been superior to Madrid – that's true. With time, we can enjoy these things more. And we will enjoy this for a few days now as well."
Villa, who scored twice, said: "It's been a very important win. We looked for the victory and we got it. And the result and the manner in which we achieved it, you cannot ask for more.
"We are two points clear. We need to continue working hard. We are in November. Just as before the game nothing was lost, now neither have we won anything. We have an advantage but we need to continue working."
Real midfielder Xabi Alonso insisted that all is not yet lost in La Liga after Real suffered their first defeat of the season.
"We didn't expect a game like this but there's a lot of the season left and this isn't over," Alonso told AS. "They have made things a lot easier for themselves by scoring the first so early and then getting the second quickly. It's been very difficult. We have to learn from the mistakes we've made."
a href="http://www.easyodds.com/sports-betting/football-betting/english-leagues/premier-league/outright/pfa-young-player-of-the-year-2010–11.html"_blank">Gareth Bale is odds-on to win the PFA Young Player of the Year award after his sensational start to the season. See all the best odds at easyodds.com
A subscription makes the Christmas perfect gift. Give a lasting gift this year and save up to 33% when you subscribe.