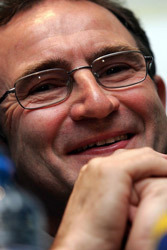 Martin O'Neill appears set to be named as Aston Villa's new manager.
Newspapers are claiming that a news conference will be held on Friday evening to announce O'Neill as the replacement for David O'Leary, who left the club by mutual agreement last month.
Talks between the Irishman and the Villa chairman Doug Ellis are almost complete and the Norther Irishman is expected to become the 14th manager to serve under Ellis.
O'Neill has been out of football since leaving Celtic in 2005 to look after his ill wife, Geraldine.
With her health improving O'Neill now seems ready to return to football and may even be in charge of Villa in time for the club's pre-season tour of Germany and Holland which begins on Saturday.
O'Neill is expected to be joined on the trip by two backroom staff, John Robertson and Steve Walford.
O'Neill's appointment comes amid takeover talks for the club. There are four consortia – led by American billionaire Randy Lerner, lifelong fan Michael Neville, deputy judge Nicholas Padfield and football agent Athole Still – all trying to buy out Ellis.
Negotiations are continuing with Randy Lerner, who had identified O'Neill as the next Villa manager in the event of becoming the club's owner, and it is possible that the American billionaire will seal a deal for the club within the next seven days.