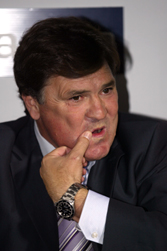 Former Real Madrid coach Jose Antonio Camacho has revealed that the signing of England striker Michael Owen contributed to his decision to quit in September.
Camacho, who stepped down after just four months in the post, told sports daily Marca that he had been unhappy at not being able to exert full control at the club.
"I didn't ask for Owen, although I said that I would not get in the way. Xabi Alonso was an option, but the priorities were (Arsenal's) Vieira and (then Roma player) Emerson," said Camacho.
"When I am coaching I want to organise things, and here (at Real Madrid) I could not do that as I would have liked and so I decided to leave."
Among the proposals the club rejected turned down was Camachos' recommendation that players to eat lunch at the training ground so they could work in the afternoon, he said.
Camacho, who also had a 23-day spell as Real coach in 1998, says that he is unlikely to get another chance at the Bernabeu.
"I don't think I will have a third opportunity to train Real Madrid," he said.