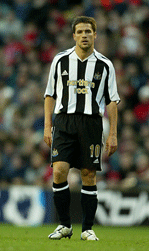 Michael Owen insists he will be fit for this summer's World Cup finals in Germany despite breaking a bone in his right foot.
Owen picked up the injury playing for Newcastle against Tottenham in Saturday's 2-0 defeat at White Hart Lane.
The 26-year-old England striker could be out for several months, according to Newcastle boss Graeme Souness.
"It's disappointing but everyone gets their fair share, if there's any consolation I've got plenty of time before the World Cup," Owen told Sky Sports News.
Asked whether the injury would affect his World Cup plans, Owen replied: "Not from what all the experts are telling me.
"There are no quick ways, it's two and a half months or three months, I don't know what it is but it's the same for everyone. Loads of people have had it done – (Wayne) Rooney, (David) Beckham, Gary Neville and Stevie Gerrard."
England coach Sven-Goran Eriksson told the Football Association website, thefa.com: "Obviously I'm very disappointed for Michael. It's very bad luck for him and for Newcastle United.
"Michael is a fantastic striker and a very important player for his club and for England. I hope he returns to fitness as soon as possible and I will follow his progress very closely."
Newcastle manager Souness said: "Michael Owen has broken his fifth metatarsal in his right foot. He's had it X-rayed here (at White Hart Lane) and he will obviously be out for several months now.
"It's a similar injury to David Beckham's (in 2002). It's an almighty blow for us.
"Even when you're not playing particularly well, you feel that you can win games with Michael in your team. I can't tell you how big a miss he will be. It's an absolute disaster for him and for us."