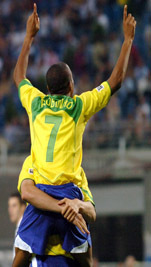 Brazil coach Carlos Alberto Parreira has admitted that the array of attacking talent at his disposal is causing him problems with the World Cup less than a year away.
"I can only play with two men up front and have five to choose from," Parreira said after watching his side overcome European champions Greece 3-0 in their opening Confederations Cup match on Thursday.
"It is a major headache, but one that I have to solve."
With Ronaldo not playing in the tournament, Inter striker Adriano and Santos prodigy Robinho starred in the win over the European champions.
Adriano's goal was the highlight of the game – a wonderful 30-yard effort attracted the headlines, but it was the the 21-year-old Robinho who stole the show.
"Robinho is a reality. He is a treasure," Parreira added.
"I think he can start with the Brazil team," he said of the 21-year-old Santos striker who is coveted by many of Europe's top clubs.
Robinho was happy with the team's display.
"It was not an easy game for us, but the instruction from the coach was to pass the ball very fast and that is how we played. I think it worked," Robinho said.
"I was happy to score but I am even happier that we started the tournament with a win."
Parreira admitted that the atmosphere at the game had helped his players.
"Today I felt the environment of the World Cup every moment," the Brazil coach said .
"This is the Confederations Cup, not the World Cup, but it had the feeling of the World Cup about it," he said.
"It is good to play here. It's important. We want to play in the final. We want to perform here. It's good for the players to feel this."
"The balance was very good. We played very skilfully. Everybody did his job and we played as a team, covering the spaces."