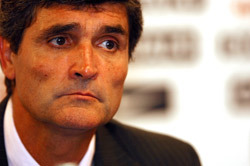 Juande Ramos has revealed that it would be 'complicated' to leave Sevilla for Manchester City.
The Spaniard has been strongly linked with the managerial vacancy at Eastfields following Stuart Pearce's sacking at the end of last season.
Ramos' agent Alvaro Torres revealed earlier in the week that there had been no contact with the Premier League club regarding the post, although he admitted that his client was keen to work in England.
Ramos has now confirmed that he would like to stay at Sevilla, who have qualified for the Champions League.
"For me, it is a pleasure to see my name in the pages of the English papers, but I think it would be very complicated for me to leave," Ramos is quoted by the Times.
"I am happy in Seville because I have the chance to make the most of my career.
"I do need to ask some questions of Seville. That will have to wait until the end of June because now we play for our lives in two big matches."