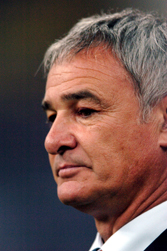 Juventus have appointed Claudio Ranieri as their new coach.
Former Chelsea manager Ranieri, resigned as Parma coach last week, and was expected to become the next Manchester City manager after he spoke last week of his desire to work in the Premiership again.
Ranieri, 56, took over the struggling Parma side in February and guided them to safety, with a 12th-place finish.
Juventus have offered Ranieri a three-year contract.
In a statement the new coach is described as "A man of international experience and vision".
The statement added: "For Juventus, this an authoritative choice fully in line with the company's objectives and tradition."
Juve were demoted last summer and began the season on minus nine points after being found guilty of match-fixing, but won promotion under Didier Deschamps. The Frenchman resigned afer guiding them back to Serie A.
Ranieri began his management career at Campania before taking over at Cagliari with whom he secured promotion to Seria A in 1989. A switch to Napoli followed before he moved to Fiorentina where he won the Coppa Italia and the SuperCoppa Italiana.
His exploits at Fiorentina earned Ranieri a move to Valencia, where he enhanced his burgeoning reputation by leading the club to the Champions League before moving again, this time to Atletico Madrid. However, during his brief tenure the club went into administration and Ranieri quit before he was sacked, moving to England in the summer of 2000.
At Stamford Bridge, he was accused of over-rotating his squad, and picked up the nickname of the 'Tinkerman' from the British media, but his period in charge, which coincided with the takeover of the club by Russian billionaire Roman Abramovich, saw Chelsea finish second in the Premier League and reach the semi-finals of the Champions League. However, his achievements were not enough for Abramovich who promptly sacked Ranieri at the end of the 2003-04 season.
A return to Valencia followed but Ranieri, who succeeded current Liverpool coach Rafa Benitez at the Mestella, was unable to recreate the success of his first spell at the club, and after a disappointing run of results he was fired by the Spanish club. Two years in the wilderness ended with his return to management with Parma, who, against the odds, he led to safety at the end of the 2006-07 season.