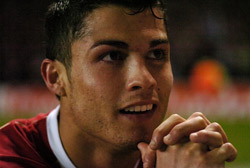 Compare football odds from over 25 bookmakers and claim £500+ in Free Bets. Click here for offer!
Real Madrid have begin their campaign to lure Cristiano Ronaldo to the Bernabeu by revealing that the Manchester United winger is their number one transfer target.
A four-page feature in the Spanish sports daily Marca, announced that Madrid's director of football and director of marketing had given the go-ahead to sign Ronaldo "even if he costs a fortune".
Marca also claims that Ronaldo has told Madrid officials he is willing to come to the club and that a verbal agreement is now in place.
"Ronaldo," ran the paper's headline, "says yes to Madrid."
The paper, which enjoys close contacts with the Madrid hierarchy, seems convinced that Ronaldo will now publicly demand to leave United at the end of the season. With Madrid relying on United agreeing to sell, pressure from Ronaldo is, the paper confirmed, "the key".
The leak follows a familiar pattern, with the previous high profile signings of Zinedine Zidane, the Brazilian Ronaldo and David Beckham all launched through leaks to the Madrid sports press.
It is understood that Madrid have spoken to Ronaldo's agent Jorge Mendes about his client's future and also about that of Jose Mourinho – who is on the Bernabéu shortlist for next season.
Mendes has told Madrid that Ronaldo would be keen on a switch to the Bernabéu and Madrid have taken those words at face value.
Madrid's president, Ramón Calderon, is under pressure after another disappointing season. He is also keen to erase the memory of the pledge he made last year to sign Kaka, Cesc Fabregas and Arjen Robben.
Madrid may not have it all their own way. Apart from United's stated reluctance to sell the player, Ronaldo is also a target for Real's arch-rivals Barcelona. The three-way fight to secure his services is likely to produce one winner and that is the player himself, who can now take his pick of arguably the three biggest clubs in the world.
Compare football odds from over 25 bookmakers and claim £500+ in Free Bets. Click here for offer!