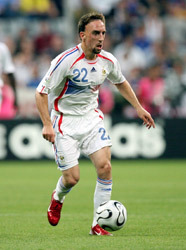 Bayern Munich are set to complete the signing of Marseille's Franck Ribery later this week.
The clubs are reported to have agreed a €25million deal for the France international, which would make Ribery the most expensive player in Bayern's history.
"We just have a few details to settle, but the deal should be made on Wednesday," Marseille chairman Pape Diouf told L'Equipe.
"Ribery will leave for Munich on Thursday to have his medical and sign the contract. Bayern have always acted in a perfectly fair way since they declared their interest.
"When the player agreed to go to Bayern and our financial conditions were accepted, it was out of the question to imagine him going to any other club."
Diouf also revealed that the money recouped from the deal would allow Marseille to complete a deal for France striker Djibril Cisse.
"At the weekend or early next week, we will negotiate with Liverpool to try to keep Djibril Cisse."