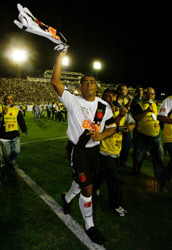 Help us with a Sport and Betting Survey and win a £50 Free Bet! Click here to take part now.
Former Brazil striker Romario has finally reached the landmark of 1000 goals by converting a penalty in Vasco da Gama's 3-1 over Sport Recife on Sunday.
The 41-year-old's effort sparked wild scenes at Vasco's Sao Januario stadium, where celebrations held up the Brazilian championship match for 16 minutes.
Dozens of people, including friends, relatives and a horde of radio and television reporters converged on the pitch to congratulate and interview the 1994 World Cup winner after his 48th minute goal.
The exact number of goals scored by Romario has come under scrutiny and he recently admitted admits his tally includes goals scored in youth team, friendly and testimonial games.
The former PSV Eindhoven and Barcelona player was presented with a special shirt with the number 1,000 on the back by club president Eurico Miranda and completed a lap of honour.
"I dedicate this goal to all the people who helped me and who were always by my side, like my parents, my children and all of you," a teary-eyed Romario said. "I want to thank God in heaven for all this."
"This is a historic moment for me and world soccer," Romario said. "I have been chasing this goal real hard and at times I thought I may never reach it. Without a doubt, this was the most important moment in my career as a professional player."
"It's a great pleasure to reach this target, which only one other player has managed," he added.
Pele also scored his 1,000th goal from a penalty for Santos against Vasco da Gama in 1969.
"There are always some who don't like it, but only one other person has done it and I'm proud."
Romario, playing his first game for nearly six weeks, had been stuck on 999 goals for three matches, during which Vasco were knocked out of two competitions and coach Renato Portaluppi was fired.
Vasco coach Celso Roth said: "It's a great honour. I'm very grateful to be here at this historic moment for Brazilian and world football."
The mark is not recognized by FIFA, which says it only counts goals scored in official competitions.
According to FIFA, Romario still has some way to go before reaching 1,000 goals. Not counting the 71 before turning pro, Romario would have 929 career goals.
Help us with a Sport and Betting Survey and win a £50 Free Bet! Click here to take part now.