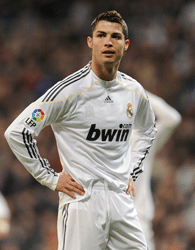 Simon Hopper has a handicap tip to share for Liverpool's game against Fulham tonight…
Real Madrid star Cristiano Ronaldo insists he is not jealous of Lionel Messi and stressed that he doesn't "have an obsession" with the Barcelona forward.
Ronaldo and Messi have both been in impressive form for their respective clubs this season; the Portuguese forward has scored 32 goals in 31 games, while 2009 and 2010 World Player of the Year Messi has netted 30 in 28 games.
The Argentinian Messi also claimed the inaugural FIFA Ballon d'Or earlier this month, while Ronaldo missed out on the final shortlist – though he did retain his place in the FIFA World XI.
But despite missing out on recent individual awards, Ronaldo says he insists that he is solely focused on his own target of winning silverware with Real this season.
"I don't have an obsession or a direct rivalry with Messi," Ronaldo told La Gazzetta dello Sport. "I feel the same way about other players. But, one thing is certain: I want to be the best of all footballers.
"I don't envy Messi at all. My priority is to win La Liga and the Champions League with Real Madrid, not Ballon d'Or awards."
Simon Hopper has a handicap tip to share for Liverpool's game against Fulham tonight…
Take advantage of the January sales by saving up to 36% on a subscription to World Soccer