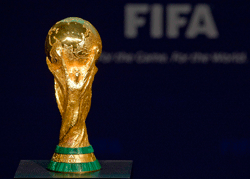 Russia's 2018 World Cup bid has responded angrily to allegations that they offered incentives to the suspended FIFA executive Amos Adamu in an attempt to secure his vote.
The claims arose from the Sunday Times's investigation into alleged vote-buying, which led to Adamu's suspension by FIFA on 20 October.
According to the paper, Adamu told an undercover reporter that the Russians had offered him "co-operation" with building facilities and training players in Nigeria. The suggestion was that such offers of support would be made in exchange for his vote.
The head of the Russian bid, Alexei Sorokin, tonight dismissed the claims, and suggested the newspaper had deliberately targeted Russia in an attempt to damage England's main rival in the bidding process.
Sorokin confirmed that Adamu had visited Moscow in August, but insisted the visit was conducted "in confirmity with FIFA rules".
"Mr Adamu was indeed visiting Russia in August," Sorokin said. "During his stay in Moscow he was introduced to the key elements of Russia's bid through a series of presentations and venue tours. However, we would like to categorically state that never was he approached with any offers of assistance in pitch construction or players' training or any other partnership. We consider statements by Mr Adamu as speculation and unfounded."
Sorokin added that "all bidders are likely to have made proposals to the various stakeholders" as part of their legacy planning, but that such proposals – including "friendly matches, coaching academies, referees courses and infrastructural support" – did not mean that backing was being bought.
Sorokin's suggestion that the claims were part of an English media conspiracy to undermine a rival bid echoed a point made by Sepp Blatter on Friday.
The FIFA president told a press conference: "One can ask whether it is appropriate for newspapers to set traps for people … Why would an English newspaper do that? We talk about fair play in sport – that must apply to the media too."
The Sunday Times, though, stood by its story, pointing out they were acting in response to "specific allegations" by Adamu, who "did not discuss receiving specific offers of 'co-operation' from other bidding nations".
The latest row adds to an increasingly bitter bidding process, and follows last week's formal complaint by the England bid team after Sorokin was quoted as saying London had a high crime rate and alcoholism problem. Sorokin later claimed he had been mistranslated, with England withdrawing their complaint following an apology from Russia's sports minister.
Make sure you don't miss any of the last news and articles from World Soccer. Subscribe to World Soccer today and take advantage of our all 50th anniversary offer, saving up to 50%!