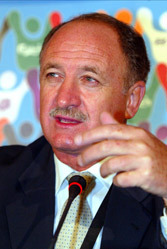 Portugal's Brazilian coach Luis Felipe Scolari has emerged as favourite to succeed Sven-Goran Eriksson as England manager.
Middlesbrough's Steve McClaren had been tipped to replace Eriksson but according to reports in the Bristish press, Arsenal vice-chairman David Dein has persuaded the Football Association (FA) to offer Scolari the job within the next 48 hours.
According to the reports Dein had won over colleagues on the FA Selection Group.
The Times, under the headline McClaren v Scolari, claimed that senior FA councillors were open to the idea of another foreigner, after previously favouring ann English candidate.
The Brazilian, known as Big Phil, has seen his odds tumble from 16-1 to 9-4 with McClaren still the favourite at around 1-2.
Scolari, responding to the latest bout of speculatiion, denied being interviewed for the post.
"No, I don't (sic) have an interview," Scolari told BBC Radio Five Live.
"I am coach of Portugal and I am only thinking and speaking about Portugal until the last day of the World Cup.
"I said to the BBC two or three months ago … that I am happy that they (the FA) are thinking about me.
"But I have a contract with Portugal and I don't want to talk anything more about any contract until the last day of my job with Portugal."
Meanwhile, Manchester City manager, Stuart Pearce, said he would be surprised by the appointment of Scolari.
"Everyone I speak to in the street wants a British-based manager," Pearce told the BBC. "The groundswell of opinion is that it will be a British coach.
"If I was looking to appoint someone to do the national job their immediate run of results wouldn't overly matter," added Pearce.
"You cannot say whether someone is a good or bad manager over a period of three or four months.
"Steve McClaren started as 20-1 outsider but because of the run of results he is now the favourite.
"Is Scolari the new kid on the block at the moment? He certainly has an impressive track record and has managed in lots of different countries.
"I have no idea whether he is going to get the job or not. I just want anyone who can take the country forward."
"The FA probably picks up on what the public want as well as what they hear."
Scolari led Brazil to the World Cup trophy in 2002 and Portugal to the Euro 2004 final. He leads Portugal into this summer's World Cup, and has repeatedly told reporters that he will not make an announcement on his future plans until the finals are over.
Subscribe to World Soccer – The essential football magazine.