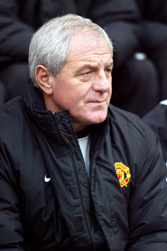 Walter Smith has been appointed the new manager of Scotland.
The former Rangers and Everton manager has been unveiled today as the successor to Berrtie Vogts.
"I'm delighted. The national team manager's job is still one any coach would want and I'm looking forward to getting started," Smith said.
"I've had experience with Scotland from youth to assistant level of the full national side and I'm looking forward to my own spell as team manager."
Smith succeeds Vogts, who resigned on 1 November after a succession of poor results which have left the Scots trailing in their World Cuip qualifying group.
"I think Scotland have a chance of qualifying for the World Cup finals. I certainly have not given up hope (but) it's going to be tough."
"It is going to be tough, the last couple of home games have not gone our way and the remaining home games will be important."
Tommy Burns, who was number two under Vogts, will retain his position under Smith.
"Walter has asked me to stay and work alongside him in the same capacity as I was in before," said Burns.
"I'm thrilled to have been given that chance as I have always considered it a great honour to be involved with Scotland," Burns told the Scottish Sun newspaper.
Smith has an impressive resume in Scottish football. He led Rangers to seven league titles, before quitting in 1998 to become manager of Prem eir League club Everton. His time on Merseyside was less successful and affter failing to make any progress during his three-year- reign, he eventually resigned on 2002 with the club involved in yet another relegation battle.
Smith had a short spell as assistant boss to Sir Alex Ferguson at Manchester United last season.